Post by legionnaire on Nov 8, 2009 8:00:21 GMT 8

or even half of this..
anyone knows whom group they are from???..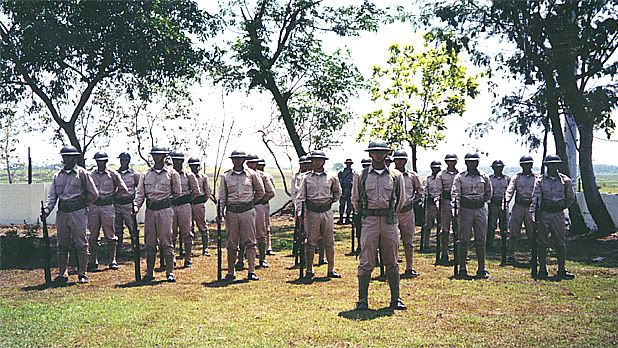 And so, with the Colonel's kind permission, here is his reply of acknowledgement:

"If I am not mistaken they were my boys from the 24th
Infantry Battalion, 7th Infantry Division, PA taken in
April 2002 at Camp O'Donnell, Capas, Tarlac during the
60th anniversary of the Araw ng Kagitingan. My boys
served as firing detail during the honors for the dead
of the Battling Bastards of Bataan. I was their
battalion commander from 2000-2002. Philip attended
one of two Military Vehicle Shows I organized for 2
consecutive years.

The platoon leader, then Lieutenant Louie Dema-ala is
now a Captain. I was also in that occasion in the same
type of uniform but out of the sight of the camera.
While there were lots of shots taken before and after
this one, I don't have a copy of any photo taken
during the said activity because we did not bring a
photographer. Some of the photos are in the possession
of the families of the veterans who attended the
occasion. Thanks for this one.

It took me 2 years to generate uniforms and "complete"
accessories for the boys. The rifles are M1903A3
Springfields from the AFP Logistics Command, the
authentic leggings and repro cartridge belts were
donated by the Battling Bastards of Bataan while the
helmets are replicas molded in plastic by Prof. Mel
Silvestre of the UP College of Fine Arts.

It was just unfortunate that when I left for another
assignment, my successor did not have passion for
history. Many of the uniforms and accessories were
eventually infested by termites in the battalion
supply storage but when I learned of it, I retrieved
whatever can be salvaged and some have been displayed
on the PA Museum mannequins. The rest are still with
me for future use.

Thanks and Regards.

Resty "
Here's more of Col. Aguilar's men:
pinoyhistory.proboards.com/index.cgi?board=photosreenacting&action=display&thread=724