Post by jimmiroquai on Dec 21, 2009 20:10:32 GMT 8
I was lucky enough to get a 2nd AGM MP40. It was broken but has since been fixed, upgraded, and modified. The selector switch has been removed. It shoots around 360-380fps. I've also installed an H-nub to help with accuracy. Now, here's the dillema: I actually want to keep this unit. I plan to use it as my CQB gun if my 1st MP40 is too hot for the site (400-420 fps). I'm using the magazine to help fill my mag pouch. And, if the need arises, i can use it for spare parts/custom builds. But...given the relative local rarity of this gun, i feel guilty that i have two.
So here's the deal: if you really, badly want this gun, pm or text me. I'll even weather it/ paint the panels bakelike for free. Price = cost+rarity+sentimental value = 4K
I'm not out to make a buck from you, my friends. It's just that i'd really like to keep it. But one of you might want it more than me.

In fact, i hope there are still boxed AGM MP40s somewhere out there. Try these places first:
1) Divisoria Bodega Mall: last i checked 3 months ago, there was still 1 unit left
2) Airsoft Armory in Pasay reportedly has one unit
3) BroJames in Farmers Cubao had one unit
Anyway....i'm also unloading my remaining modern guns:
For sale: Upgraded JG G3SG1
6 months old
Upgrades: PDI190%, metal cylinder head (silent type) with matching polycarb piston head, Spring guide with bearing, Guarder g3 ASN, metal bushings, expertly shimed by gunsmith, mosfet with active breaking, JG strong motor (blue), CA 535mm tight barrel, SCS (or H-nub). Re-wired for battery in the handguard.
Shoots 450 fps
Very accurate
It on the top right most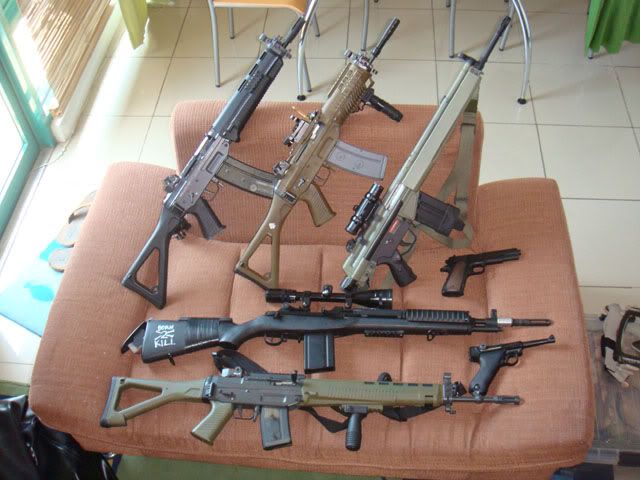 Note: Retractable stock NOT included. Comes with the full buttstock. Red dot not included. NO Bipod
Package includes:
Gun
3 pt sling
9.6V Nimh
2 magazines
Price: 4K (last price), open to trade with a full length M14
Item location: Robinson's Ermita
RFS: unloading all modern guns
If interested, pm or text: 09175235835
Also for sale:
ICS Sig551 Swat (top left)
Upgrades: PDI190%, metal ASN, Last chrono 460fps
Package includes 4 ICS Sig magazines
Price: 10K negotiable
Item location: Robinson's Ermita
RFS: unloading all modern guns
If interested, pm or text: 09175235835
Cheers!
jim