Post by jimmiroquai on Jan 10, 2013 21:38:05 GMT 8
I think i've gotten far enough along on this build to finally warrant a post on progress...anyway, here's my take on the FG42 (or at least what i have so far).
I wouldn't have started this build if i wasn't able to buy a resin/fiberglass kit of an FG42 from indonesia.
Link:
x5model.blogspot.com/search/label/1%3A1%20Fallschirmj%C3%A4gergewehr%20FG42
This is the first time i've used a cad program for a build. I was just a math paper and ruler sort of guy before, sometimes not even. But i got to try my hand a Google Sketchup, and man, was i hooked. Extremely easy to learn and less trial by fire come build time. So here is the design phase, with a sten gearbox and hop up as the base: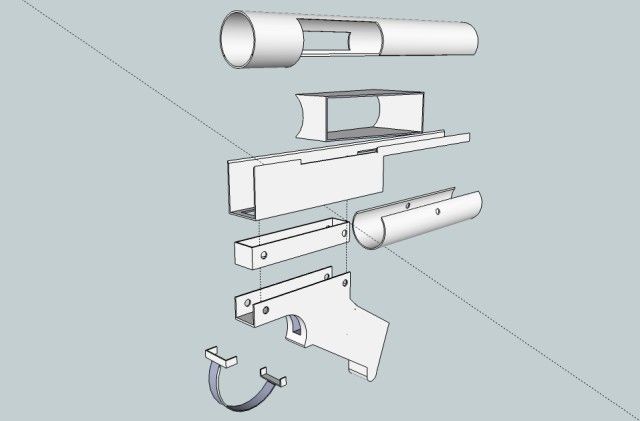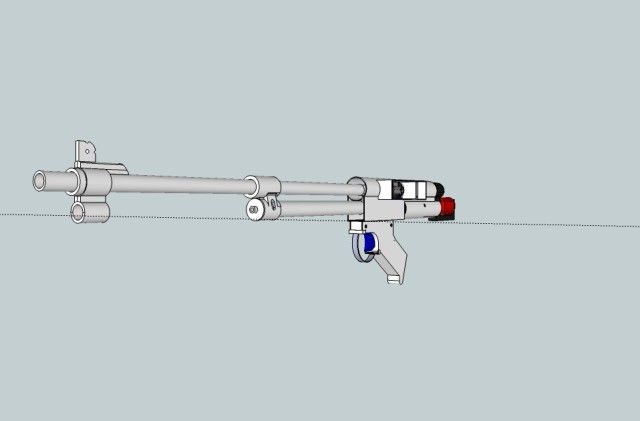 The receiver would have to be much bigger to accommodate the gearbox. One could fit a modified version 3 gearbox in the buttstock and custom build a very long nozzle and hop up to keep the dimensions closer to reality but i did not want to mess around with potential leaks and low power later on. I chose the sten gearbox because the nozzle and tappet is centrally located and the motor is straight. I will be removing the sten trigger and hooking up a microswitch. Dimensions of the receiver take into account existing pipe and box steel dimensions.
The great thing about using a cad program is that i can actually work on designing other components while waiting for the machine shop to finish other stuff. So while the barrel and other bits are being machined, i can work on the receiver, stock, and handguard...
Here's what i have so far...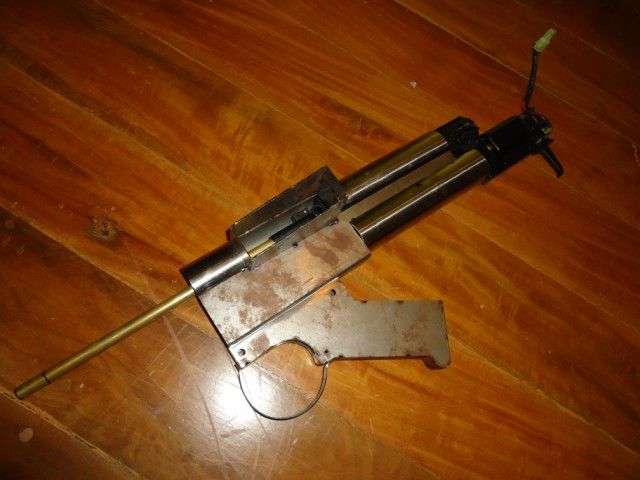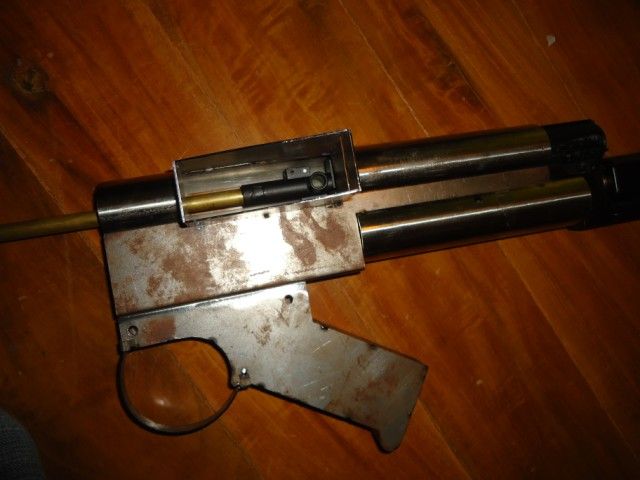 At first i was hoping to use parts from the kit directly but unfortunately, it's made of very thin and brittle fiberglass. I had the handguard and bipod copied in high impact fiberglass. I still have to adjust the size of the stock to fit the larger receiver then that's going to be done in more durable fiberglass as well. I'll be using m14 mags for this. I chose m14 mags mainly because king arms has a cheap set of 5 midcaps in plastic, which will be easier to modify. They will be going into the magwell in a reversed orientation though.
compared with the kit:
front and rear sights, muzzle made out of aluminium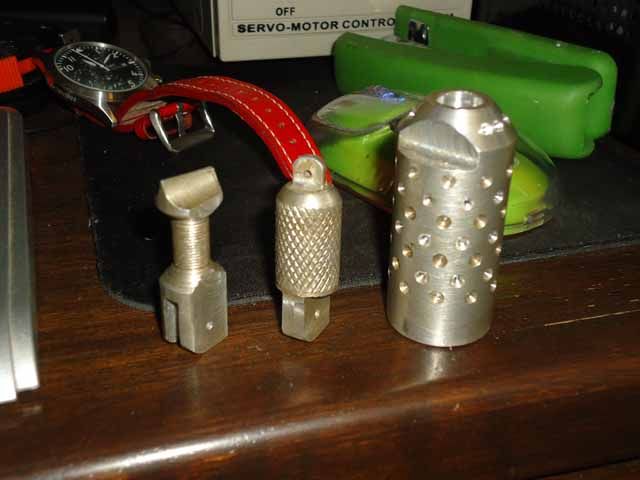 Bayonet lug and gastube/bipod mount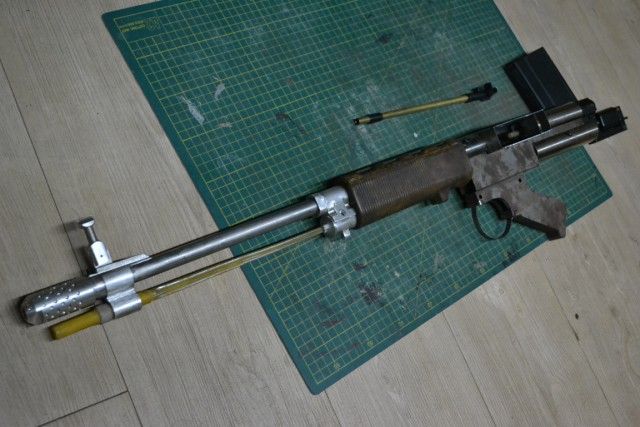 High impact fiberglass furniture. The buttstock had to be enlarged to fit the fatter receiver and to accommodate the rear of the gearbox. Battery will be stored in the stock as well.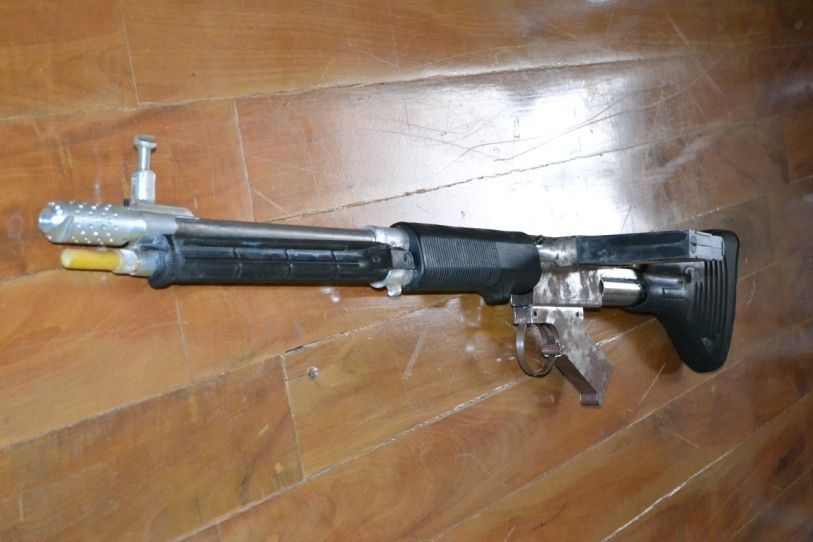 Trigger mech prototype made out of Sintra board, utilizing a micro switch. It seems sturdy enough as it is so i may defer translating it into aluminium sheet.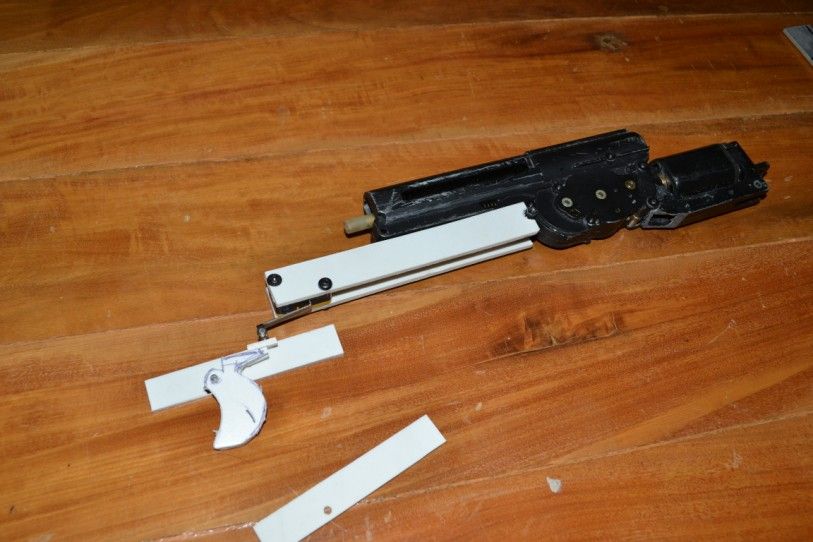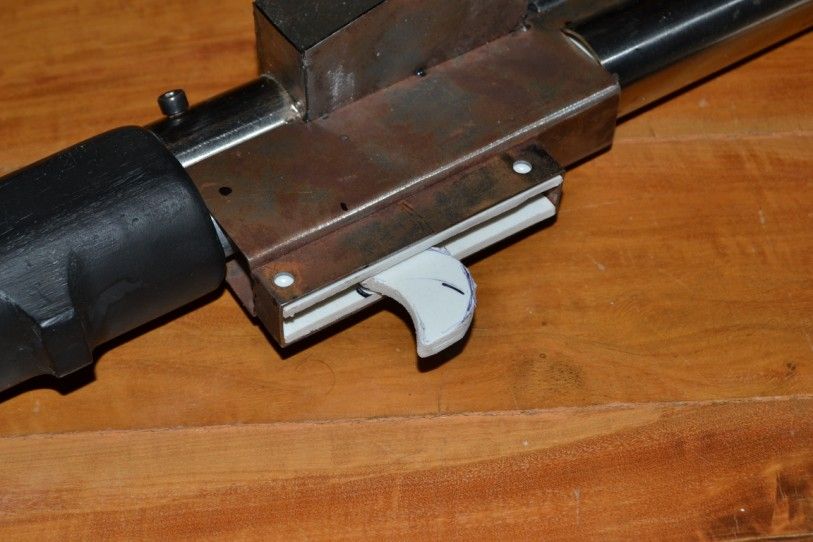 More to come...