Post by jimmiroquai on Oct 15, 2012 7:14:25 GMT 8
Hi all. This a Practical Comparative Review of the Tanaka, G&G, and Bar10 conversion Kar98k. By "practical" I mean mainly in-game usage in the hands of one user/owner for all three rifles (me). So this is all first hand experience. I will not go into a detailed review of each rifle separately, but rather focus on what sets each one apart, advantages and pitfalls.
Background:
I've been very very fortunate to have these three rifles on hand to compare head to head. I built the Bar10 conversion or "Bar98K" in 2009. I was able to buy the G&G kar98k this year. Then i was lucky enough to get a pre-ban Tanaka Kar98k for less than half the price of the G&G. Today was the first time i brought them all to a game.
The Bar98k
My Bar98k was built using a JG Bar10pro and a Dboys Kar98k with wooden stock. It has been upgraded with Edgi precision parts and shoots 550fps with 0.2g bbs. Upgrades include: tool steel sears, steel spring guide, SP01 Edgi spring (rated for 500-550fps), piston, 6.01id custom bull barrel, stock hop rubber with anti-blowby rings. Stock parts are the cylinder, cylinder head, receiver, hop chamber. Optimum weight bbs: 0.4g. Total cost of build and upgrades: USD393
Advantages:
*Most consistent fps (range of only +/- 5fps)
*Best shot-to-shot precision/accuracy (probably due to the tight barrel and the amazing design of the hop chamber)
*30 round magazine
*no consumable gas required
*lightest of the three
Disadvantages:
*You will need time, money and skill to build one for yourself
*Will require a LOT of work to make receiver look spot on
*Using the Bar/VSR, the rear sight will ALWAYS sit too high due to the cylinder design. You will have to either compensate your aim (aim low), raise the front sight blade, or use a scope.
*Will have to cut a large magazine well out of the bottom of the stock
*Hardest to cycle bolt..especially if upgraded.
*magazines don't fit in k98 pouches
The G&G G980
G&G was the first to release a more affordable and skirmishable Kar98k. I was able to get their 2nd release, with the new steel hammer components. The 8g CO2 cartridges were readily available packaged as soda chargers. The package already comes with 2 mags, sling, and a box of good quality .30g bbs. I bought mine new for about USD460. The problem is that i got a lemon. My magazines were only giving me 120-200 fps. My friend who bought from the same store had the same problems. I emailed G&G about it and they said that it might be too hot where i live (Manila, Philippines), making the pressure too high for the hammer to depress the firing pin. But according to the gun tech i brought it to, it shouldn't be the case. First of all, it's not that hot over here (24-30degC). And second, all other CO2 airsoft guns work fine over here. G&G advised me to return the mags for them to have a look, but due to logistics, i just decided to have the tech fix the mags. He got them to fire at around 520 fps. I was able to buy extra bb clips directly from G&G. All stock. 9 round bb clips. Best weight ammo: 0.3-0.36g bbs . Total cost: USD583
Advantages:
*Widely available, skirmishable Kar98k
*Solidly built
*Surprisingly, shot better than the Tanaka kar98k
*FPS variation range +/- 20fps (not counting last few shots)
*no-tools hop adjustment
*bb clips and CO2 cartridges fit in k98 pouches
*easier to reload compared to Tanaka kar98k, even when wearing gloves
Disadvantages:
*Possibility of still getting a lemon even after paying a high premium
*heaviest of the three
*stock is too square
*hop up range of adjustment too small. Can't get enough spin on 0.4gbbs which are the ideal weight for this fps range.
*Sometimes the cartridge gets stuck. Can get it out without the use of a drill but you can't do this in the field
The Tanaka Kar98k
I consider this a very very lucky purchase. Lucky because the previous owner really wanted it gone. The going rate for a brand new one (IF you can find it) is USD700-1000+. The one i got is preban (without the fps restrictor) including 2 magazines, a sling, BG hop unit, KM TN 6.04 barrel all for only USD261.
Advantages:
*Best fit and finish, hands down.
*Just felt great in the hand...i don't know how to explain it. It felt Right.
*It's THE airsoft Kar98k, what can i say...
Disadvantages:
*Hard to find, most expensive of the three (usually

)
*Surprisingly, had the largest fps variation +/-25 fps
*Have to use a flat head screwdriver to adjust hop. Mine felt waaay to loose. Is that normal?
*Shots were a bit scattered compared to the G&G and the Bar98k
*front sight rotates...is that normal? Can i just glue it in place?
*magazines don't fit in the pouches
*extra mags hard to find, expensive
*parts getting hard to find
Comparison shots
from top to bottom: Tanaka, G&G, Bar98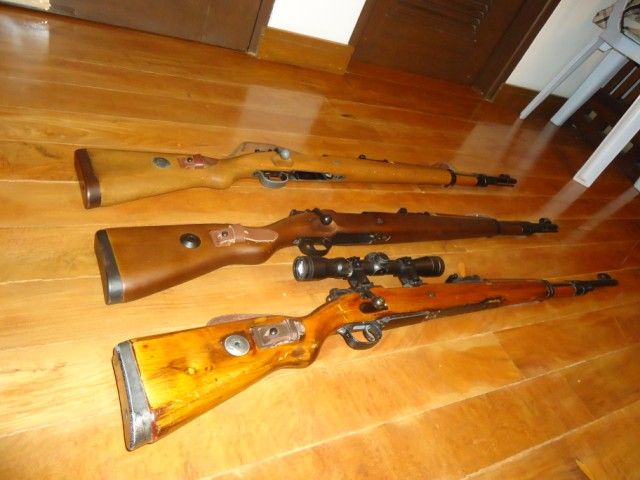 from top to bottom: Tanaka, G&G, Bar98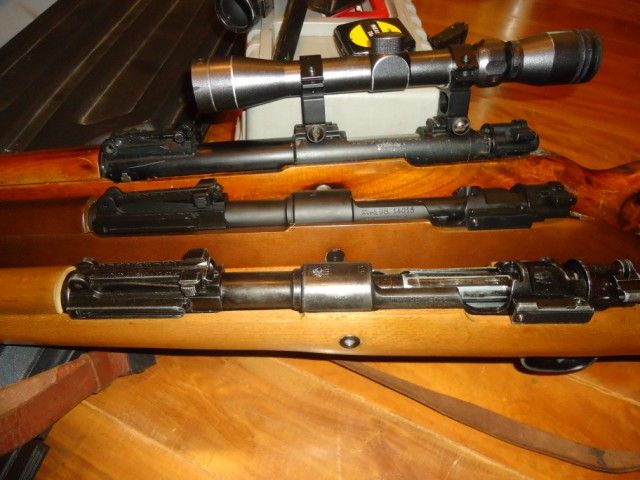 Receivers top to bottom: Bar98, G&G, Tanaka. Notice the Blued finish of the tanaka? Beautiful. Notice the AK rear sight on the Bar98? At the time of this build, i didn't have tools to use the rear sight from the Dboys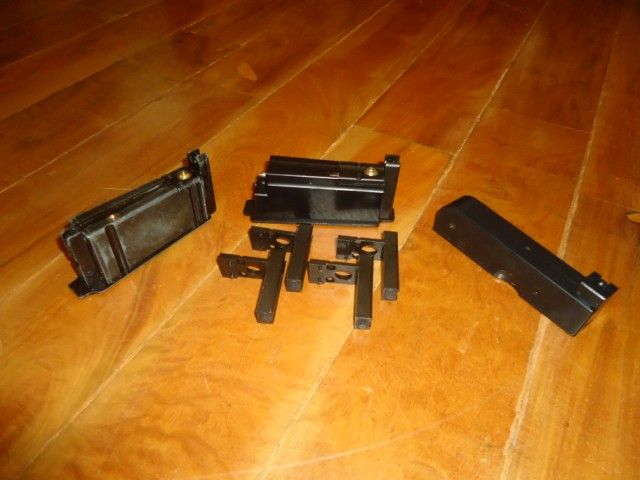 Magazines: L-R: Tanaka, G&G mag and clips, Bar98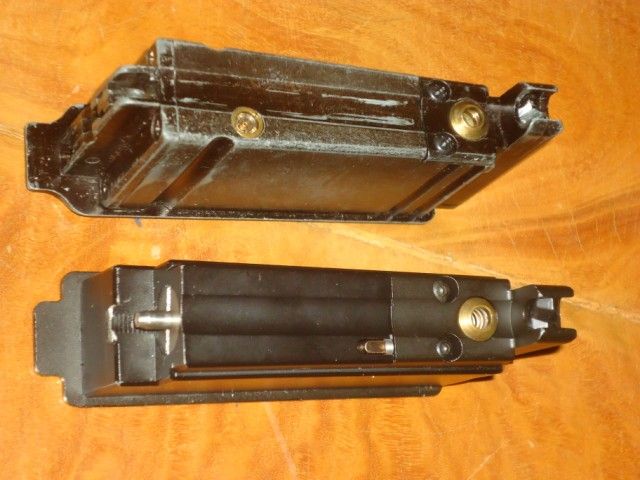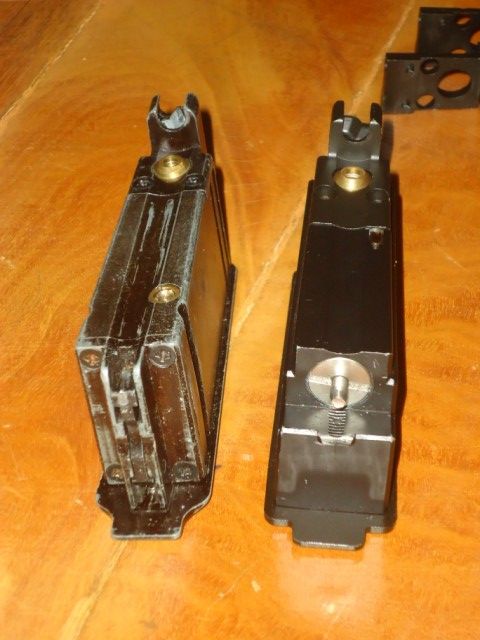 Tanaka & G&G mags are NOT interchangeable.
Final word:
There are a lot of second hand info regarding comparisons of these rifles. "Springers are the best" "Tanaka will out perform anything 'cause it's the best rifle EVAH" "G&G sucks"...So here are my final thoughts, without any bias or elitism...
Best for precision sniping: Upgraded Bar98k
Most accessible, most available and surprisingly a good performer (if you get one working fine OTB): G&G G980
Best 1:1 Replica: Tanaka